ROI on User Centered Design
You may have heard that User Centered Design (UCD) costs more up front. Project Managers have definitely heard it, and sometimes, they'll balk at a new approach based on cost alone. In response, you'll need to give those PMs some arguments they can use to make a case for UCD to their bosses.
When users are involved in development from the beginning the project is much less likely to fail because:
goals and requirements are clearly understood by all parties
goals and requirements are reiterated throughout the development process
if goals or requirements change, then the delivered software can match the the moving target of shifting goals
users need little or no training because they've been testing and using the software BEFORE launch
testing undercovers more bugs before launch, which gives you time to fix them when it's less expensive
tech support costs go down, due to fewer errors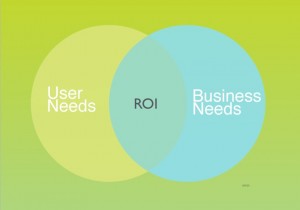 All these items are above-the-line costs. You can quantify the savings when a project launch requires less training and tech support. If there are bugs that cause downtime or financial errors, it's easy to see how much that would cost.
And that's just the internal ROI. If the software is for online shopping carts, or retail order fulfillment, then you can include an increase in sales after the software is launched in the ROI calcualtion. Don't forget the ROI studies specifically on document management have estimated that up 30% of a person's work week is spent looking for the resources they need. So the ROI on that software is 30% of each user's annual salary. So that's the business case for User Centered Design.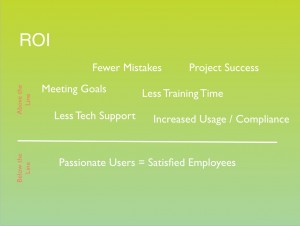 But don't forget the intangible, below-the-line ROI of having passionate users who are now more effective and efficient at their jobs because you've created a great user experience for them.