Every new software release cause for celebration and reassessment. There are always new features that make your working life easier. But even change for the good is stressful since you can't (at least you shouldn't) keep doing everything the old way. The upgrade to FileMaker Go 14 is no different. Here are four reasons your mobile life is about to get better.
Automatic reconnection
Improved performance
Android support
Signature screen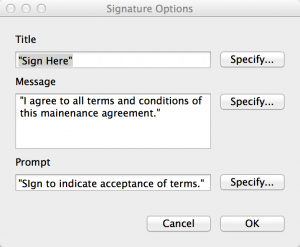 Automatic Reconnection in FileMaker Go 14
If your connection gets dropped, FileMaker Server can now interact with Filemaker Go to re-open the database, and remember what you were doing when you got interrupted. You may need to log back in (depending on your database's reauthorization settings), but you won't have to re-create found sets and active records after you do. When we were testing this feature in preparation for writing FileMaker Pro 14: The Missing Manual, this process was so seamless that we wouldn't haven't noticed the dropped connection if we hadn't been the ones causing it.
True, this feature isn't limited to FileMaker Go. Anybody who opens a database from a FileMaker Server 14 server will benefit from automatic reconnection. But mobile folks will appreciate it more since they're often using the database in front of customers or in other situations where disconnections are extra stressful. This way, recovery is more forgiving.
Improved Performance
Here's another area where improvements to FileMaker Server give a better experience for end-users. The engineering team heard the cries for better performance and dedicated lots of time to making sure that FileMaker Server can handle more Go/WebDirect connections without bogging down. This is critical for wider adoption of FileMaker Go and WebDirect. Although the technology was amazing at delivering FileMaker on mobile or on the web, it was underwhelming, even disappointing, for users who needed to get work done on a tight schedule. Some early adopters were so disappointed that their early databases didn't gain wide deployment after launch because of their inefficiency.
The good news is that early tests show 2-3x speed increases over Server 13—even when the Server 14 box has fewer cores and less RAM! That means much better performance for small user bases. Even larger deployments will benefit since those same tests indicate that operations that caused a Server 13 deployment to choke at 15 users can sail along with twice the number of users.
Android Support
Some folks who absolutely had to have access to their FileMaker databases on Android devices have been willing to risk using an unsupported technology. Others found the performance buggy or worse and felt left out in the cold. Those days are gone with official support for Android. You'll need Chrome 38 or later to meet the official tech specs.
Signature Screen
The Insert from Device script step now includes a Signature Options dialog box where you can specify a Title, Message, and Prompt for the signature capture window on FileMaker Go. Each one lets you include static or dynamic text (through the Specify Calculation dialog box). Now when you hand your device over to a customer or client for their signature, they'll see instructions in context with their signature. This little bit of polish goes a long way toward making a good impression on your users, and on the people they're serving.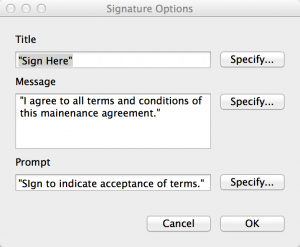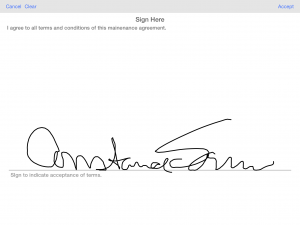 FileMaker Pro 14: The Missing Manual is now available for pre-order. Set for release May 23, 2015.
Tell us your favorite features of FileMaker 14. Leave a comment below.