FileMaker DevCon 2015 — 20 Years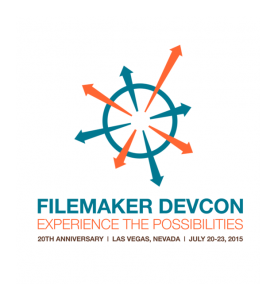 FileMaker DevCon 2015 is right around the corner. If you're at all serious about upping your FileMaker game, then you need to be at DevCon. It's ground zero to get the newest thinking on creating software with our favorite database. You'll be able to choose from over 20 daily sessions that are packed with new information from FileMaker experts.
I remember my first DevCon like it was yesterday, even though it was 18 years ago. Since then, I've only missed one DevCon because it's so crucial to staying current with FileMaker. There's no doubt that working in the trenches gets you lots of experience, but there's nothing like seeing how others go about cracking some of the same problems you've tackled to broaden your outlook and expand your toolbox. Even better, you get to see solutions to problems you didn't even know people were having. Great as the sessions are, sometimes a chat over lunch or in the hall between sessions is worth the price of admission when you make new contacts or get pointed toward another great resource.
The first early bird discount period has past, but there's still time to avoid paying full price. Plus, hotel reservations tend to fill up fast, so it's not too soon to start making plans. Read more about the full schedule of sessions, speakers, exhibitors, and travel plans.